It can all be simply said with 2 hearts.
This is Kate's most popular book.
BRAND NEW – LIMITED STOCKS – 45 ALBUMS ONLY. Medium photo albums are now available again.
19 x 29cm with black recycled paper.
Each album has 30 pages (60 sides) and holds up to 120 4" x 6" photos with 5 x brown recycled paper journal sheets (could be used for wedding guest's signatures) in each album. $65 each. I have sourced a beautiful new book cloth (canvas that I paint and use on the covers) it does not need a sealer, so the colours are richer (but not quite as bright as before) and the surface is matt.
By way of special order, your album can be personalised with names or a memorable quote from the occasion (I charge extra for this, contact me).
medium

$65

19cm (w) x 29cm
(holds up to 120 photos)
GIFT

For the couple A lovely and practical gift so they can remember to keep on celebrating.
From the couple Smaller ones can be made for the wedding party (bridesmaids and groomsmen), as well as the parents, to say thank you.
1. Choose a cover click pic to enlarge
whole image
appears on
front of album

single heart

two hearts

hearts

angels

personalised
+$10
2. Choose colours for hand painted cover:
lemon yellow, warm yellow, orange, bright red, pink, purple, violet, blue purple, blue, turquoise, green, lime OR leave it to Kate.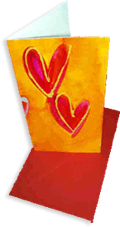 Also see cards, guest books and special orders.
I can also custom make wedding invitations and thank you cards.
Each book has been painted, folded, sewn and glued by hand. Covers are made with book binding cloth (canvas) and hand painted with non-fade inks then coated in a water-based (but not water proof) sealer. Black covers are made from commercially dyed black canvas and are water proof. Each hand painted cover is a one-off and will vary from the sample covers shown here. Wedding albums are bolted not folded and sewn. I recommend that photos are stuck in with double sided sticky acid-free archival mounts – these go on the back of each corner of each photo. Available from me for $5 (box of 500) or your local photo shpp.