I love making these cards. They are real celebrations of colour.
The outside of the card is individually hand painted (front and back) and insides are blank. They are made from beautiful 300 gsm Canaletto art card and approx. 13cm x 13cm when folded with a bright coloured matching envelope. Available in packs of 6 for the very special price of $30. Each pack has a variety of card and envelope colours.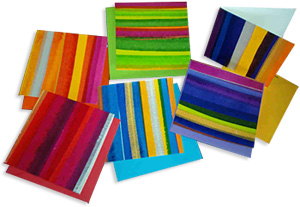 pack of 6 cards

$30

13cm x 13cm when folded
(includes matching envelope)
GIFT

Simply the gift of your words. A beautiful way to send your celebrations, condolances, thoughts, love and to remember that we can still use the ol' pen (or quill). These cards are already found on many fridges and pinboards worldwide.
1. Choose a card cover click pic to enlarge
whole image
appears on
front and back
of card

hearts

stripes
Also see wedding albums and special orders.
Each card has been painted and folded by hand. They are painted with non-fade inks. Each card is a one-off and will vary from the sample cards shown here.