Year long calendar diaries of many sizes are available.
They were really popular at the markets. Feedback includes "a joy to use each and every day of the year". All the diaries have Australian and New Zealand public school terms and most have international holidays. Covers are individually painted and all the inside pages are printed on 65% recycled paper (except A6).
Note: The following year's diaries are available each October.
A7
7.5cm (w) x 10.5cm

$25

Week to an opening

$30

Day to a page
slim

$30

8.5cm (w) x 15cm
Week to an opening SAMPLE
slimline

$30

8cm (w) x 17cm
Horizontal week to an opening SAMPLE
A6

$35

10.5cm (w) x 15cm
Week to an opening
A5
15cm (w) x 21cm

$45

Week to an opening SAMPLE

$50

Day to a page SAMPLE
A4
21cm (w) x 30cm

$60

Week to an opening SAMPLE

$65

Day to a page SAMPLE
GIFT

The perfect way to help "get it beautifully together".

wine
journal

$30

15cm (w) x 8cm) SAMPLE
This is a very handy pocket size journal. It includes a section to help you choose the right wine to match the food and there is enough space for you to write down those delicious wines that you want to remember.
GIFT

These wine journals have solved many a gift dilemma for that hard to buy for body.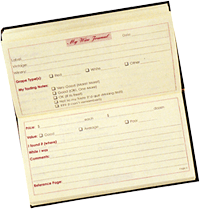 wine journal
1. Choose a cover click pic to enlarge
image wraps
around front
and back

black

cat

chooks

cow

crocodile

dog

echidna

fish

flowers

goat

hearts

houses

lizard

musicians

pig

platypus

sea horse

stars

stripes
2. Choose colours for hand painted cover:
lemon yellow, warm yellow, orange, bright red, pink, purple, violet, blue purple, blue, turquoise, green, lime OR leave it to Kate.
Also see journals and sketch books.
Each book has been painted and glued by hand. Covers are made with book binding cloth (canvas) and hand painted with non-fade inks then coated in a water-based (but not water proof) sealer. Black covers are made from commercially dyed black canvas and are water proof. Each hand painted cover is a one-off and will vary from the sample covers shown here.
© copyright Kate Raffin 2016.
All prices in Australian dollars.